18 Jaw-Dropping Casino & Poker Guinness Records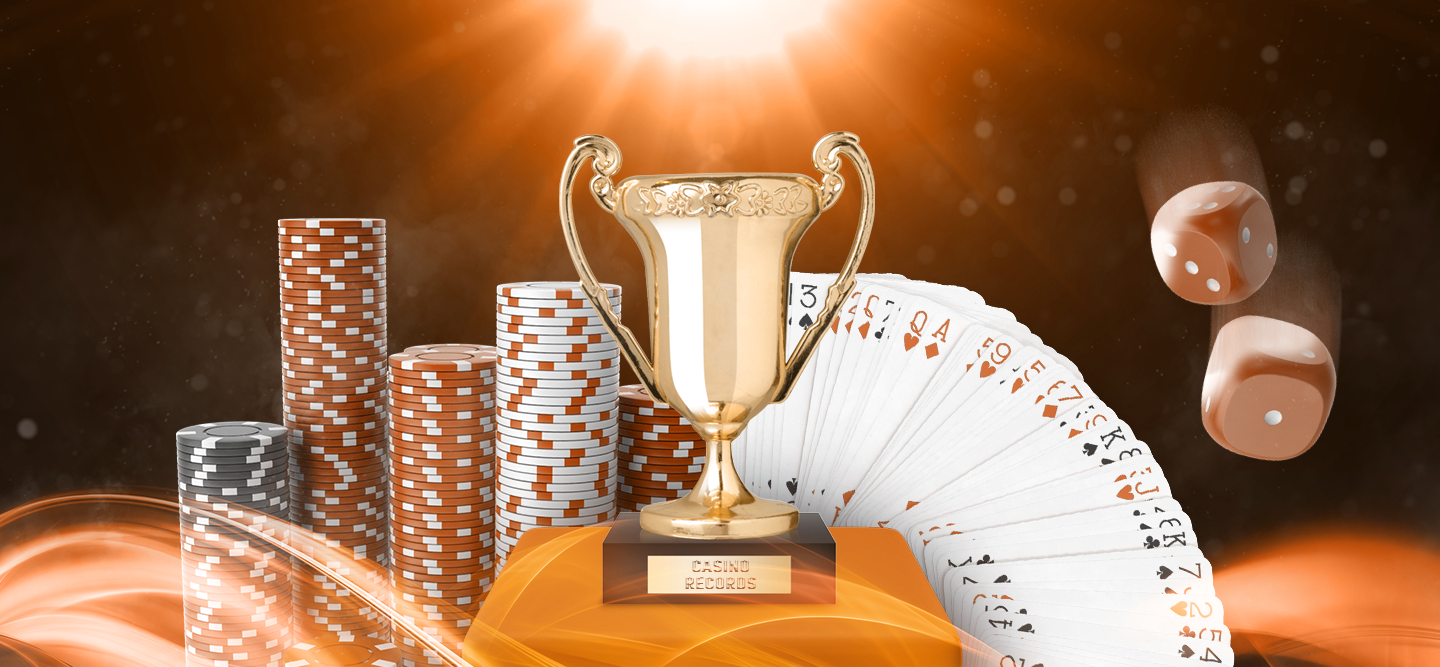 Gold Trophy in the spotlight on a platform with stacked casino chips and cards in the background with falling dice.
Hold onto your chips and your hat, Team Ignition, because we're taking you on a journey through the wild world of poker casino records. The universe where Guinness World Records collide with the glitz and glamour of the casino floor. From the most casinos ever visited to the largest stack of casino chips recorded in history, we've rounded up the world records that have left the international gambling community in awe.
So, pull up a chair, settle in, and let's explore the records that prove casinos and poker are about more than just luck.
The first record on this list takes us all the way back to the 1950s. In 1955, American man Edwin Wheeler started his streak of visiting the most casinos in history. This journey of breaking the world record concluded in 2002, at which time Wheeler had visited 358 casinos over 372 visits (having gone to certain casinos more than once).
Lucky number 2,222 – this is the number of casino chips and tokens held by Gregg Fisher, a Las Vegas resident, as of 26 September 2021.
Believe it or not, this isn't the first time Fisher has broken the record. He first achieved it back in 2020 with 818 chips and tokens.
Unsurprisingly, Fisher is a loyal member of the Casino Chip and Gaming Token Collectors Club (CCGTCC) and the Museum of Gaming History (MoGH).
To this day, he grabs chips/tokens at every casino he visits, contributing further to his ever-growing collection.
If you're a fan of in-person and/or online pokies, then you'll love this record. On 30 April 2016, the largest pokie machine competition took place in Auburn, Washington. A whopping 3,173 players took part in the tournament organised by Muckleshoot Casino.
According to the Auburn Reporter, the event – which was hosted in honour of the casino's 21st anniversary – ran for over 13 hours and awarded players more than $100,000 in prizes. The top winner of the night, Benigno T., walked away with $21,000 in cash as well as a four-night trip to Las Vegas. Not bad, right?
"This is a thrilling honour not just for Muckleshoot Casino, but for the incredible 3,173 players who hold this record with us equally," said Conrad Granito, the casino's general manager at the time of the event. "Their spirited enthusiasm, combined with the exhilarating fun of Everi's TournEvent of Champions, created a winning combination."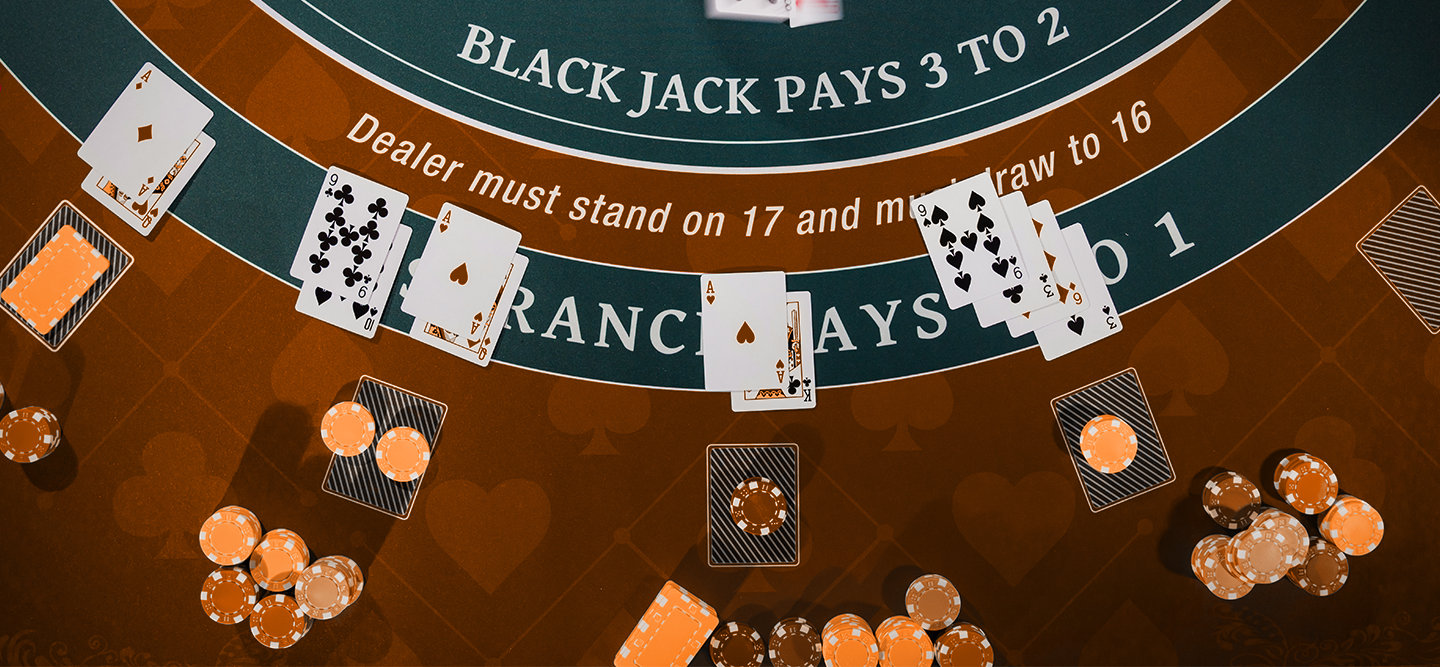 Calling all traditional and online Blackjack lovers! Trust us when we say you won't want to miss out on a visit to this iconic Blackjack table.
At the Viejas Casino in Alpine, California, you'll find the biggest functioning Blackjack table on the planet, which boasts a surface area of roughly 2,226 feet.
Much like Muckleshoot Casino had a big celebration for its 21st anniversary, so did Viejas Casino. On this day, six players gathered around this enormous table and played the most oversized Blackjack round in history. After all, given that the table was huge, it was only logical that the chips and cards be massive to match the scale.
As an online casino, we'd be remiss not to showcase some of the most incredible online poker Guinness World Records. This impressive achievement is for the longest amount of time spent playing online poker without any breaks.
This awesome feat was attained by Martin Hummel of the Netherlands, who spent a jaw-dropping 48 hours playing online poker (2-4 April 2021).
In the two days he spent playing online, Hummel played more than 40 No-Limit Texas Hold'em tournaments. He also streamed the entire stint on his Twitch channel – perfect for poker streamers.
Now that we've talked about the longest online poker marathon by a single individual, we need to talk about the longest traditional poker marathon.
Originally from Dublin, Ireland, Phil Laak achieved this record at the Bellagio Hotel and Casino in Las Vegas. The stint lasted 115 hours, from 2-7 June 2010, and over 117,000 people watched his gameplay online.
This was just one of Laak's many accomplishments in his poker-playing career. He's taken home major wins in NBC's Poker After Dark and the World Series of Poker (WSOP), and as of 2018, his winnings exceed $3.5 million.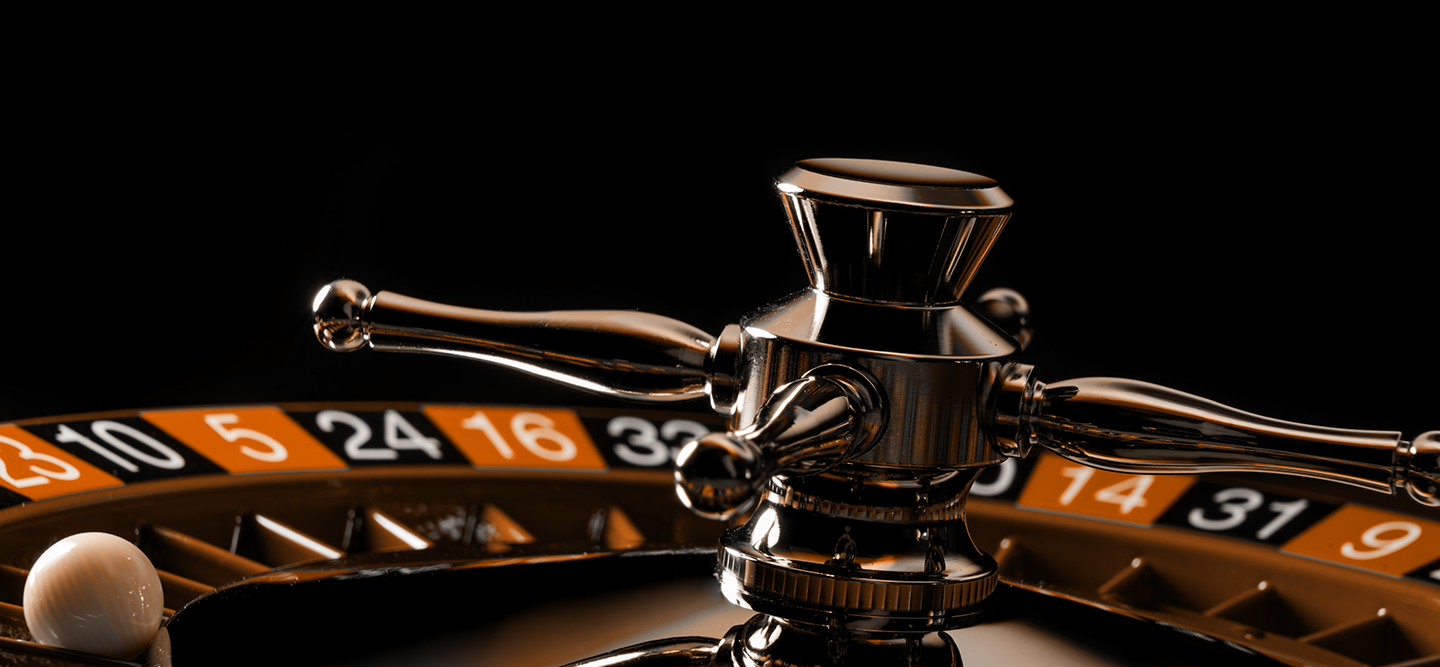 On 16 December 2017, Casino Du Liban in Lebanon achieved a remarkable accomplishment in the casino space: the largest roulette wheel in history! Measuring over 28 feet in diameter, the roulette wheel is even more impressive considering it's located on the dome ceiling of the casino.
If you're eager to see this roulette wheel in person, be sure to add it to the list of your upcoming gambling trips.
As you likely know, Craps is an iconic casino game played with two dice. Players roll the first dice to get a point number and the second dice until they get a 7.
On 23 May 2009, Patricia Demauro of New Jersey achieved the longest Craps roll in history at the Borgata Hotel Casino in her home state. Demauro rolled the dice a whopping 154 times over the course of over four hours.
This impressive streak saw Demauro beat the previous record held by Stanley Fujitake of 118 rolls in three hours and six minutes.
Although Demauro and the Borgata never revealed how much she won, some say she used a chunk of the winnings to take her grandkids to Disney World. Pretty wholesome, if you ask us.
It should come as no surprise that the world record for the fastest dealing of a full deck of cards was achieved by a professional poker dealer.
In January 2022, Travis Sitch of Minnesota dealt a full deck of cards in just over 15 seconds. The moment was a big one for Sitch, largely because he'd dreamed of holding a Guinness World Record since he was a kid.
"I chose to go for this record because I thought it would be a fun record to work towards as a poker dealer. A poker dealer should have this record!" Sitch said at the time.
Despite pulling it off, Sitch has no plans to slow down on his record-smashing. He also plans to attempt the longest marathon poker dealing session in history.
By now, you already know that we here at Ignition are online poker enthusiasts. That's why we couldn't help but include the largest online poker tournament ever held.
Organised and hosted by PokerStars in the UK, the competition took place from 5-6 October 2015 and featured an impressive line-up of over 250,000 players. After 470 hands, the top winner was DaDumon of Austria, who walked away with over US$10,000.
For many of us, 2020 wasn't the best year ever (for obvious reasons). But it was an incredible year for the world of online poker. This was the year that the largest prize pool for an online poker tournament in history was recorded at the WSOP Online Tournament.
Now, we know what you're wondering: how much was the prize pot?
It was recorded at over $27.5 million and, although over 5,800 players contended for the prize, it was claimed by GGPoker.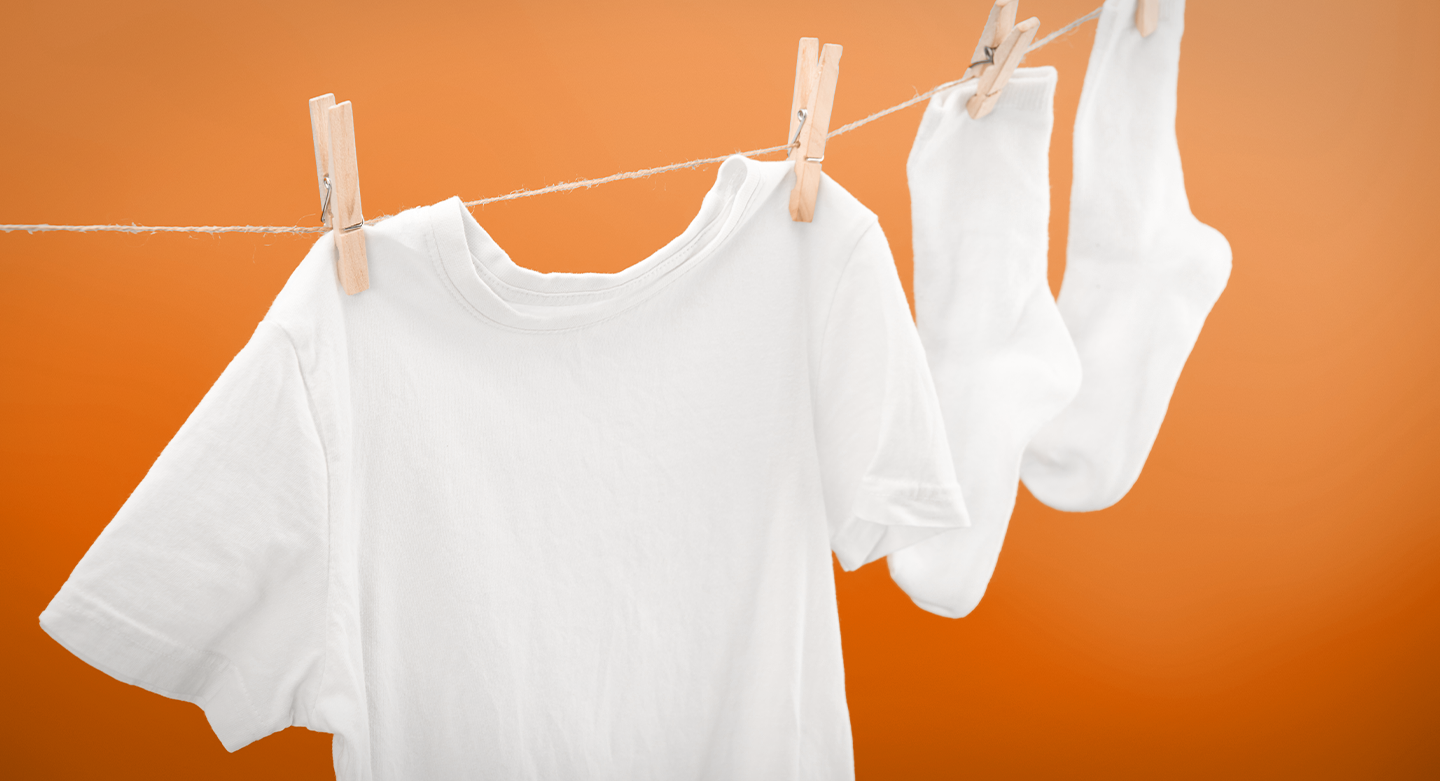 A lesser-discussed – but equally fun – form of poker is of course strip poker. That's right – strip poker isn't just reserved for uni students living in residential colleges. It's actually a widely loved – and played – game around the world.
There are even strip poker tournaments. The largest in history was coordinated by the Irish entertainment company Paddy Power Entertainment Ltd. and took place in London. The competition featured 196 players.
A decade later, the brand's communications manager at the time, Brendan Murray, revealed that the whole idea behind the tournament was actually an April Fool's prank. Despite it being an "obvious" joke, Murray was pleasantly surprised to see the tournament move forward four months later. It gained so much media attention, he revealed, that it opened a wide range of doors for him in the gambling business in the years that followed.
The WSOP Main Event is one of the most renowned poker tournament events on the planet. To win it, you need cunning, skill, strategy, and impeccable timing. One thing you don't need? Heaps of life experience, as proved by Joe Cada.
In 2009, the American poker player became the youngest person to ever win the Main Event at just 21 years old. Making the achievement even more impressive is the fact that Cada beat out poker giants Jeff Shulman and Phil Ivey to claim the title.
To no one's surprise, this was just the beginning for Cada. In the years since he broke the record, Cada has accumulated over $14 million in winnings.
You can do some pretty impressive things in an hour – just ask Bertrand 'ElkY' Grospellier of France. In 2009, Grospellier broke the record for the most online poker tables played in 60 minutes, playing 62 tables for PokerStars.com at Monte Carlo Bay Resort.
The French player is no stranger to remarkable achievements; over the course of his career, Grospellier has earned nearly $15 million in poker winnings.
This Guinness World Record is taking dexterity to a whole new level. In July 2020, Rocco Mercurio of Italy broke the record for the highest number of poker chips balanced on a single finger, balancing an unbelievable 200 chips.
Believe it or not, the record was then matched less than a month later by another Italian man, Silvio Sabba. The two men hold numerous Guinness World Record titles.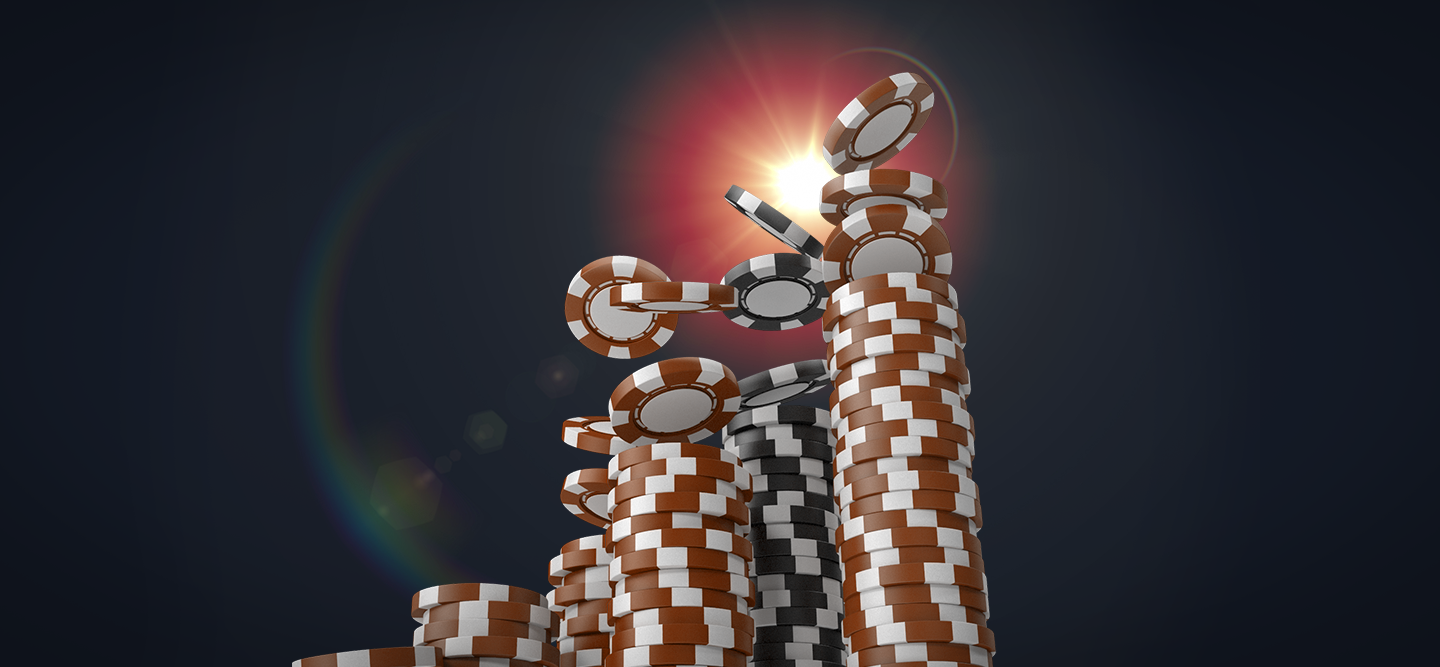 Thought you'd heard the last of Sabba? Think again.
Silvio Sabba broke this record when he stacked a mind-blowing 79 chips in 60 seconds in July 2019. But, much like his previously mentioned record, he isn't the only one to hold it.
A year later, American David Rush matched the record, and the two hold it to this day.
Designed by Gerald N. Lewy, the most valuable casino chip ever recorded in history is valued at roughly $450,000.
The chip itself is nothing short of exquisite. It's framed by 5.13 carats of pink diamonds and includes 17 one-carat diamonds. On one side of the coin is a diamond-studded 7 and on the other is a diamond-studded 8. Of course, the coin doesn't just feature diamonds – it also boasts rubies, emeralds, silver, and sapphires.
As we've said, some of the records on this list are incredibly niche – and this is one of them. On 2 June 2018, Tearle Johnson stacked 10 casino chips in 6.4 seconds. Sure, it may not sound like a jaw-dropping accomplishment. The catch? He was wearing mittens while he stacked them.
Smash Casino & Poker Records at Ignition Casino
There are always more casino and poker records to be broken. Will you be one of the great few who break them?
If you're keen to have a try, there's no better place to do it than Ignition Casino. At our online casino, you'll be spoiled with an incredible range of games, supersized jackpots, various payment methods (including crypto), and so much more.
Whether you're hoping to claim the title of biggest Bitcoin poker winner or the youngest person to win an online Roulette tournament, Ignition is the place to mark your name in history.